Okay, so I can't really say that these are 100% healthy, but much better than most of the festive alternatives. All of them are grain/gluten-free, have some protein/fibre and are vegan.
I was on Pinterest and came across this "Grain-Free Peanut Butter Chocolate Chip Cookie Dough Bites" (wow, that's a mouthful). I found the recipe on
www.texanerin.com
tried them out and man, they are amazing. Everyone I gave them to did agree, including my 6-year old who couldn't get enough!
I did try the first batch with just agave, and the second batch with 1/2 agave and 1/2 honey, both were good. Agave on it's own won't spike your blood sugar as much as honey and is the vegan option, so keep that in mind. Another adjustment was that I actually prefer to flatten these a bit into a cookie shape... just a personal preference.
Grain-free Peanut Butter Chocolate Chip Cookie Dough Balls
Recipe by:
Erin D.
|
Texanerin Baking
Category:
Cookies
Yields:
fourteen 1 1/2" cookie dough balls
Prep Time: 8 min • Cook Time: 10 min • Total Time: 18 min

Ingredients:
1 1/4 cups canned chickpeas, well-rinsed and patted dry with a paper towel

1
2 teaspoons vanilla extract
1/2 cup + 2 tablespoons (165 grams) natural peanut butter 2
1/4 cup (80 grams) honey (commenters have used agave with success!)

1 teaspoon baking powder

3
a pinch of salt if your peanut butter doesn't have salt in it
1/2 cup (90 grams) chocolate chips
Directions:
Preheat your oven to 350°F / 175°C. Combine all the ingredients, except for the chocolate chips, in a food processor and process until very smooth. Make sure to scrape the sides and the top to get the little chunks of chickpeas and process again until they're combined.
Put in the chocolate chips and stir it if you can, or pulse it once or twice. The mixture will be very thick and sticky.
With wet hands, form into 1 1/2" balls. Place onto a Silpat or a piece of parchment paper. If you want them to look more like normal cookies, press down slightly on the balls. They don't do much rising. Bake for about 10 minutes.
Notes:
My can of chickpeas was 400 grams, 240 grams without the water, and I used all but a few tablespoons.
Don't even try with regular peanut butter! They'll come out oily. You MUST use natural peanut butter. :)
If you need grain-free baking powder, you can use 1 part cream of tartar + 1 part baking soda + 2 parts arrowroot.
The next recipe I used is an oldie, but goodie, that my Sister-in-law started making years ago from a jar of Skippy peanut butter. I make them every year, and although they are grain-free, these aren't the healthiest cookies for sure. This time tried a couple of variations for the white sugar, one with coconut sugar, and I made a lower-sugar batch with 1/2 Splenda and 1/2 coconut sugar (a different sweetener would probably be better, this was all I had on-hand at the time).
Skippy Quick Cookies
Ingredients
1 cup Skippy® Creamy or Super Chunk® Peanut Butter
1 cup sugar
1 egg, slightly beaten
1 tsp. vanilla extract
Directions
Preheat oven to 325°. Combine all ingredients in medium bowl. Shape dough into 1-inch balls. Arrange cookies on ungreased baking sheets 2 inches apart. Gently flatten each cookie and press crisscross pattern into top with fork.
Bake 8 minutes or until lightly browned and slightly puffed. Immediately top, if desired, with sprinkles, chocolate chips or chocolate candies. Cool completely on wire rack before removing from baking sheets.
This is another new recipe I found, this time on http://chocolatecoveredkatie.com (thank goodness for blogs) and is what I'm going to make next! Sounds delish and they are so darn cute!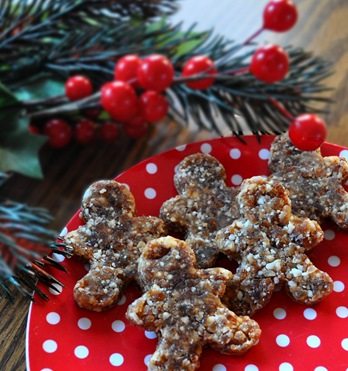 Raw Gingerbread Men (and Ladies)
Word of warning: This dough is so good that you might just want to eat it all out of the food processor/Magic Bullet and save yourself the trouble of forming handsome ginger guys.
120g dates (packed 3/4c) If unsure what dates to use, see Fudge Baby FAQ.
38 g raw almonds (about 3T)
1/4 tsp ground ginger
1/4 tsp cinnamon
1/8 tsp nutmeg
1/16th tsp cloves
tiny pinch salt
1/4 to 1/2 tsp vanilla extract
Instructions: Blend, baby, blend. Then form into people. Or Christmas trees, reindeer, angels… Heck, why not go crazy making yourself a little Gingerbread World?

Other than these recipes, Rice Krispie squares are always a favourite (I use the gluten-free Brown Rice option these days, thanks Kelloggs). My sister made lemon squares with a brown rice/tapioca starch/icing sugar base that she found online. There are tons of great recipes to try online these days, please share any links in the comments to those you have tried and enjoyed.

Hope you have a Happy Holiday Season, filled with lots of semi-guilt-free treats ;)